Ofcom steps in with a rate cap.
What do your teams do when they need to find a telephone number and just how much might it be costing your business?
Well back in the day, (a long long time ago) if you needed to know someone's telephone number you would call directory enquiries on 192.  Then this all changed in 2002 following the replacement of the 192 service with 6 digit 118 numbers. And with this came a whole new approach to pricing and indeed the marketing of 118 services. We soon became used to the moustachioed guys with running vests getting up to all kinds of antics on our television screens. But is 118 big business and do people really actually call Directory Enquiries or what is the 118 service these days?
Well apparently, yes they do and 118 is really big business. Ofcom have reported that upwards of a million users are still calling these services. More often than not this is four times more likely to be an elderly or over 64 years old person. It is estimated that more than £2.4m is spent on these calls above and beyond what callers would have expected to pay. Calling prices vary between providers but a 90 second call to the market leader 118118 charging £11.23, with some providers charging close to £20.00 for a similar call.
Not everyone is on the 'highest price possible' bandwagon, and some of the larger provider do already provide services below the new cap level that will be imposed by Ofcom. Here is a list of what you would expect to pay from some of the larger and well known brands.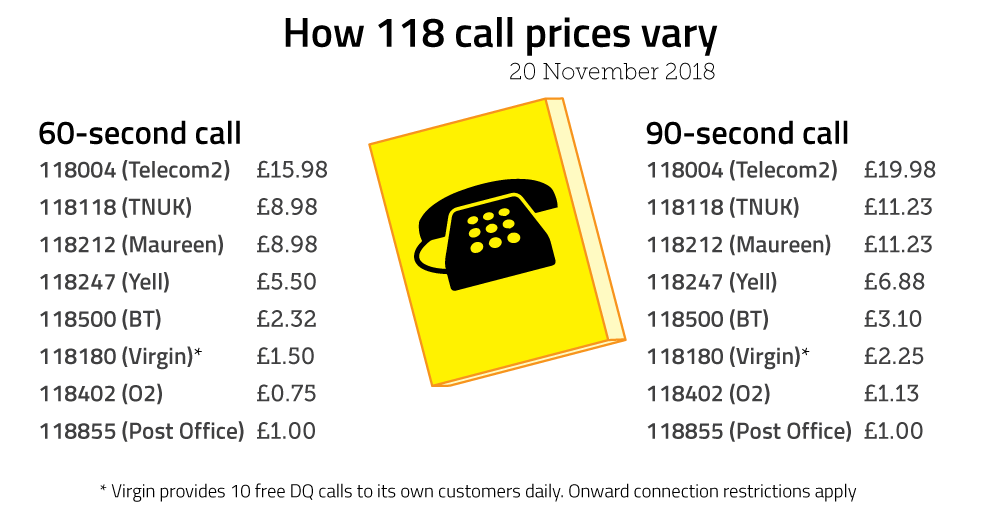 Source: Ofcom
£11.23 for a call to 118118 – is it only us, or is that simply outrageous!? Well Ofcom agree too and is bringing in a cap in April next year at which point a 90 second 118 call will cost of a maximum of £3.65 for 90 seconds. £3.65 still sounds a bit steep to us, but hopefully it will stop those rather silly adverts on the telly, you just never know, (and of course help the elderly too!).
If you would like to know more about this article, please feel free to contact the team via [email protected] and we will be delighted to help.