Avaya deepens Google relationship and launches Cloud Platform – 2 exciting pieces of news! 
We are so excited to hear about Avaya furthering its integration with Google Cloud and launching their new Containerized Cloud Platform on Google Cloud.
Google is a member of Avaya's AI ecosystem (Avaya A.I.Connect) which is geared around supporting and enabling businesses to drive a successful Digital Transformation (DX) strategy.
From an integration perspective, The key drivers are to fully leverage the AI (Artificial Intelligence) and cloud capabilities of both companies. A formidable pairing in our eyes, perfectly positioned to support the future direction of technologies and communications.
So, what can we expect to see? Avaya are going to embed Google Cloud's machine learning technology within Avaya's existing contact centre platform, enabling easy integration of digital AI capabilities and most important of all, a consistent and intelligent customer experience. The possibilities and power of leveraging this capability will give businesses running Avaya contact centre's so much more value to transform the way they interact and understand their customers. We will keep you abreast as this exciting partnership develops.
Equally exciting is the launch of Avaya Containerized Cloud. This is their Cloud Telephony offering into the  SME and Midmarket segments in the UK.
Hosted on Google's Cloud Platform, Avaya Cloud, powered by IP Office is an easy to set up, feature rich solution supporting up to 400 users or extensions on a single virtual call server with up to 60 voice mail channels. See below for the Avaya handset ranges supported on Avaya Cloud. The solution also supports 3rd party SIP endpoints so your existing investment could also be protected.
Many IP Office existing Avaya features are supported on Avaya Cloud which gives a great upgrade path for our existing Avaya customers looking to leverage the benefits of Cloud telephony whilst again, protecting their investment.
What is different about Avaya's Containerized Cloud is pretty much summed up in the title. 'Containerized'. You get your own box with your solution in it, in the cloud, at an affordable price. This gets rid of the huge bug bears we have with some cloud solutions that are shared (otherwise known as Public Cloud) and the never-ending comms re upgrades and bug fixes to accommodate fixes required for other customers issues.
What is more, it is really simple to understand as a customer. You get a simple telephony licence. If you want a softphone or smartphone app with Unified Communications tools you upgrade to a power licence. And if you want call recording you add a monthly 'Media Server' subscription to your package. Simple!
To assist the launch of this exciting new addition to the AVAYA family, we are able to offer the incredible new J169 handset FOC for each user taking out a new 3 years term. That's nearly £300 worth of high end gigabit handset for free – amazing.

We have set the new platform up, rigorously tested it and I have to say are incredibly impressed. Some of our clients have had web demonstrations and I am pleased to report that we are already receiving our first orders as businesses make the switch. As an existing Avaya customer, you might well be able to re-use your existing handsets on the Avaya Cloud Platform.
Below is a list of compatible current devices.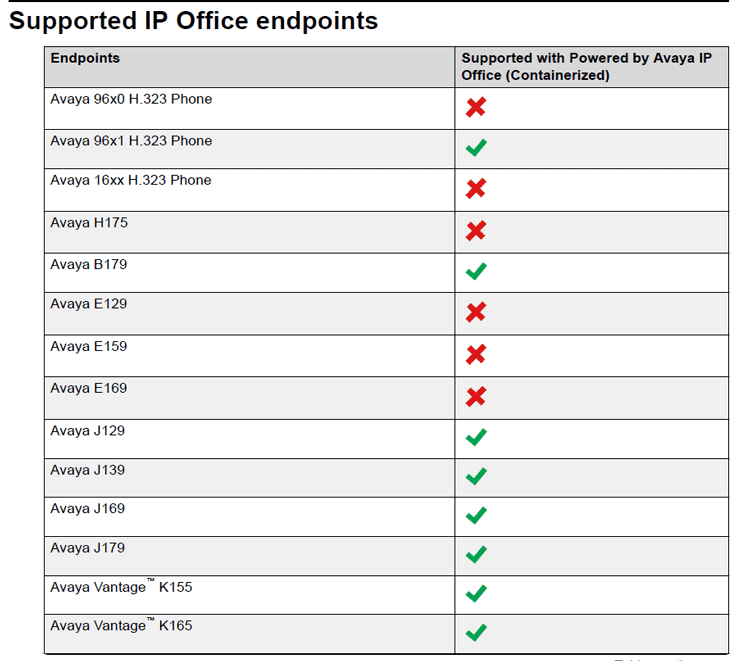 If you would like to know more about how Avaya Containerized Cloud might help your team then drop us a line at [email protected] or give us a call on 01509 278278. If you are interested in the solution but have made significant investment in handsets, please let us know which handsets you are using as we may be familiar with these working with the Avaya solution or we can get these tested for you.