There are several key trends driving Avaya's mid-market strategy and roadmap development.
New customers that want to improve efficiency, reduce cost, integrate business applications with telecommunications and invest in a solution that is simple and easy to manage.
Heavy focus on 'customer experience' encompassing customer satisfaction, multi-channel experience, outcome driven interactions, contextual experience, all optimised for mobile customers.
Rise of the mobile workforce – ability to easily work from anywhere with VPN less technology, seamless customer experience, support for 'bring your own device' (BYOD) strategies, security and controlled cost management.
The current version of Avaya IP Office is running at version 10.1 which was released in June 2017. The upcoming version of IP Office is Release 11 which is due in May 2018. We thought you would like a sneak preview of the upcoming planned roadmap enhancements which closely align to Avaya's midmarket focus areas.
Refresh of UC Client – Equinox 3.4
Avaya is moving towards a single look and feel UC client. This will be called Avaya Equinox 3.4. Avaya Equinox will replace Avaya Communicator for Web and Windows, One X Mobile Preferred and Video Softphone for MAC. You can run the same client on mobile, tablet, MAC etc.
The Evoke team love the look and feel of the new client and are looking forward to trialling it. At launch it won't have the full feature set so if you are keen to upgrade to R11, talk to a member of the Evoke team so we can share with you the pro's and cons of upgrading now vs. waiting for the full integrated feature set. In brief….
Point to point video, Instant Messaging (IM) and incoming/outgoing calls will be available at launch.
File transfer/collaboration will be an area of development and launched in a future release. Zang Spaces will provide collaboration software in the interim.
Equinox Meetings Online
We think this exciting new edition to the Avaya portfolio is top drawer!
The conferencing market is growing healthily and looking to double over next 2 years including meeting room systems and personal video conferencing. From an Evoke perspective we have seen many different areas driving the growth in this area, some of these include…
travel cost reduction
bringing together a globally or regionally diverse workforce
overseas interviews for jobs/school places
HR interviews
speed, agility and decision making – bringing together the right people quickly
account review/service review meetings
long distance house viewings
training sessions
keep homeworkers engaged and productive
customer care
board meetings
Equinox Meetings Online is essentially premium video conferencing as a service, providing high quality 1080AP quality with no hidden charges.
With Google hangouts/Skype etc. you are benefiting from a free service but if you are fed up of having meetings interrupted or frozen then now is the time to consider a more professional service.
With Equinox Meetings Online, you can pay per month or on an annual basis and you can subscribe to unlimited rooms – each room has a maximum of 50 active participants and 500 streaming participants per room.
Joining is flexible, either with PC, Mac, iOS and Android tablet. There is a neat Outlook plug in which ensures all scheduled conference sessions are automatically synchronised with your Outlook Calendar. Conference meetings are super easy to set up and you can click to join or host directly from Outlook.
Subscriptions are available from £ 99.00 per month per room which is a very competitive price for a video solution with this level of feature set and integration capability. Speak to one of the Evoke team for more details or to arrange a demonstration or trial.
New Endpoints
Avaya Vantage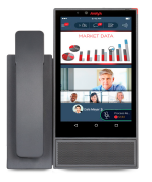 Avaya Vantage is the all-new dedicated desktop device that provides simple, instant, seamless & natural engagement. Users can fire up voice, chat, collaboration instantly through one touch connections with no unnatural breaks or pauses – eliminating the need to manage multiple devices to engage.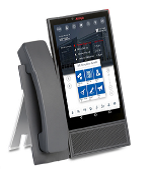 Vantage is a customisable desktop device that gives you the advantages of a deskphone and the flexibility of an application platform. It is modern, connected, and personalised.
Put your applications on this eye-catching, friendly device. It is perfect for use on desktops, in hotel rooms, healthcare facilities, kiosks – wherever users need to run their applications. Open integration and extensibility means it's easy to personalise Vantage for your industry, business, and users.
Key Vantage Features and Benefits
Brand new, all glass, innovative – Avaya Vantage is a giant leap forward into a potential series of new cutting-edge desktop devices. With its large touch screen display, no visible mechanical buttons; it sets the stage for future devices that surpass traditional ones at all levels – pushing the boundaries of a new desktop user experience. It has a small footprint on the desktop, is simple and easy to deploy, could be wall mount or just placed on a desk and comes with an optional/detachable cradle with cordless/corded handset.
Avaya Vantage is built for acoustic excellence and performance in a dedicated device, engineered for audio and video communications that is always on, in-reach, and ready. It embodies enterprise quality audio, making it an excellent communications endpoint for audio and video calling, and application integration.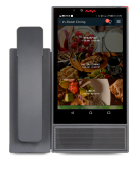 Vantage Voice Assistant is one of the first new applications that is available for Vantage through Google PlayTM store.  It focuses on communication features and will also be useful in environments where multiple Vantage devices are in close proximity. With Vantage Voice Assistant, users will have the ability to work with configurable hot-word phrase such as 'Hello Vantage' to interact with the device without touching it or even pushing the application icon. It works seamlessly with Avaya Equinox for calling features such as "call Sofia" or "call 1408xxxxxxx".
It is a huge value addition to the Avaya endpoint range, strengthening it as an application platform for developers interested in creating applications based on unique business communication needs of their customers. By enabling voice response for communications features and web search it brings a key convenience for desktop device users.
At R11 release, Avaya Vantage will offer basic SIP functionality with full Equinox UC functionality to follow. We can't wait to get ours which we hope to install in the next week or two.
J100 Series IP Phones
Avaya introduces the J100-series of IP Phones. This range represents the latest generation of SIP-based phones for use across the Avaya range of systems. All models of the family use a refreshed industrial design and common software providing a consistent installation and user experience. The entry level J129 is available now with all other models available from March-May 2018. Speak to a member of the Evoke team for more details.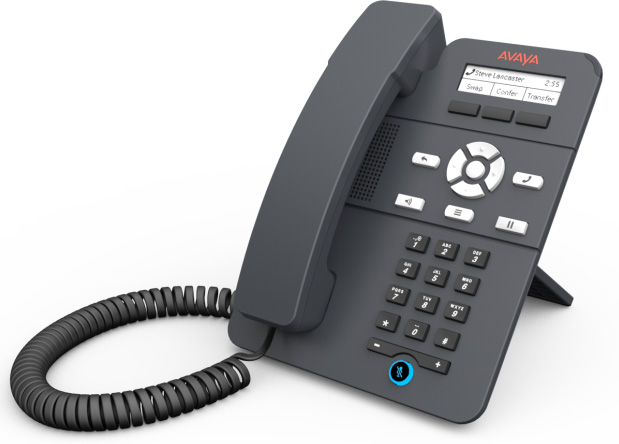 The Avaya J129 Open SIP IP Phone is a cost-effective, entry-level IP Phone that addresses the need for basic voice communications.
It is targeted for public or walk-up locations such as lobbies, lunch rooms, meeting rooms, hotels, student dormitories, retail. It can be used for other end-users with basic communications needs. There will also be an Avaya J139 IP Phone launched in May which is similar in look, feel and function to the J129, with a slightly larger footprint and screen display.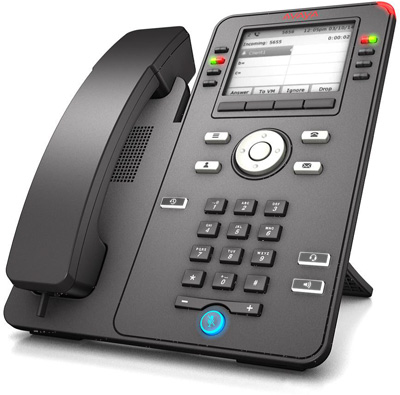 The Avaya J169 IP Phone is an IP Phone that addresses the need for everyday voice communications.
It is targeted for medium-volume users that need the full range of telephony features.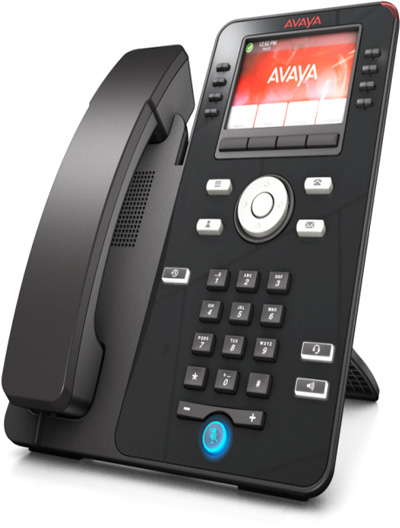 The Avaya J179 IP Phone is an IP Phone that addresses the need for everyday voice communications.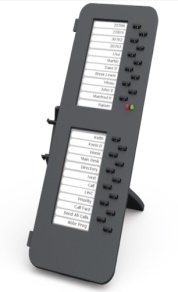 It is targeted for professionals/knowledge workers/salespeople/call centre – medium/high volume users who rely on the full range of telephony/productivity/collaboration features
The Avaya J100 Wireless Module is an optional plug-in circuit board for the J129 and J179 handsets, supporting Enterprise grade security and Bluetooth wireless headset connectivity on the J179.
This module would be ideal in an environment where cabling is not available or too expensive to route. Providing you can get a power supply to the handset and the handset can connect to WIFI, you have got yourself a fully functioning IP endpoint without wires.
The Avaya JBM14 Button Module attaches to right side of J169 or J179 to provide 24 additional configurable and customisable feature/line buttons
Each feature/line button has a red/green indicator. Up to three JBM24 can be connected to a J169/J179. You do not need an additional power supply for this module. Power is supplied from the base J169/J179 phone.
Media Manager Phase 2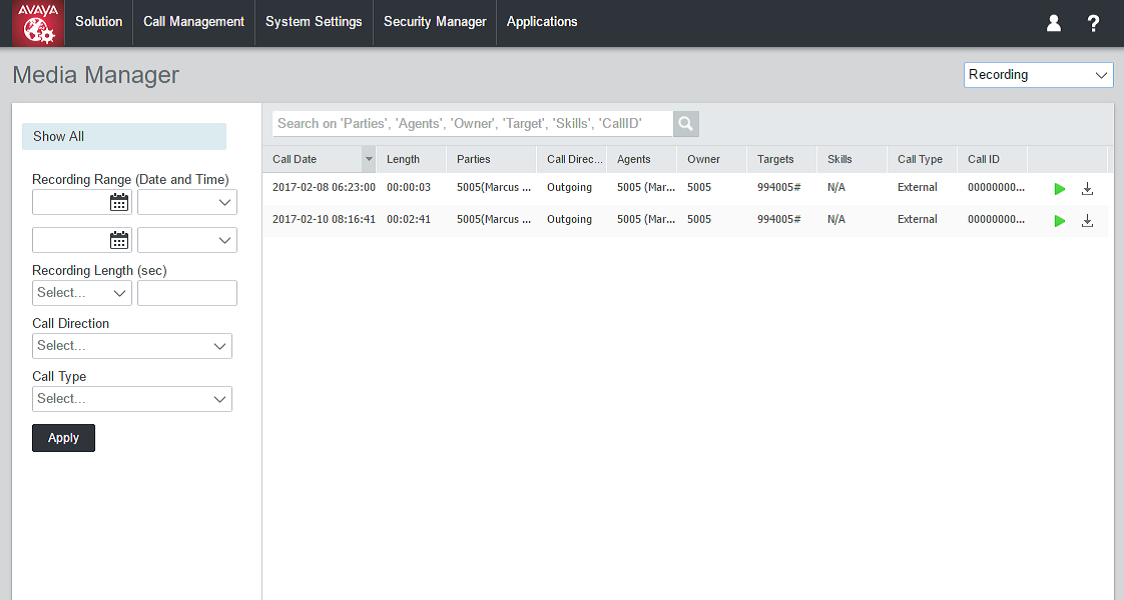 Finally, R11 brings some brilliant enhancements to the native call recording solution, Media Manager. The Media Manager application, released with IP Office 10.1 is a native IP Office application for archiving, storage, search, playback and download of IPO call recordings. For existing Avaya Contact Recorder users, you can migrate to Media Manager.
Phase 2 of Media Manager supports a wider range of browser interfaces (Google Chrome, Firefox, Microsoft Edge and Microsoft Internet Explorer).
The application now can have only one Media Manager web interface to search and playback all recording files and there are capacity improvements to allow the application to scale with the business.
We love this application at Evoke and it negates the need for complex and expensive 3rd party call recording solutions. We would highly recommend this solution for non-PCI compliant call recording environments where call recording is used for training and quality monitoring purposes.