It has become a regular event in the Evoke Telecom calendar each year as we donate a box of free books to Nurseries and Primary Schools up and down the country, as a part of our Books 4 Schools campaign.
Leading up to World Book Day on Thursday 7th of March, it was all systems go at our offices, as floors, tables, meeting spaces and at times even the office 'chill out' sofa were stacked and loaded with a wide range of books.
It was Julia Donaldson here and Michael Morpurgo there as we unpacked, shared out and re-packed 100s upon 100s of books into rather fetching 'Hungry Caterpillar' delivery boxes.
During Books 4 Schools month at Evoke, our aim is to provide 5 books from 5 different authors as a 25 book school library pack, which we then donate to schools and nurseries to boost and refresh their library stocks.
Why do we do it? Well, we all can't help but notice the tight squeeze that is being increasingly applied to school budgets as funding fails to keep pace with increased class numbers. It's a real problem for Governors and Heads as they wrestle to make ends meet.
So, we decided last year that we would see if we could make a difference in some small way. Our Books 4 Schools idea was born as a result, on the premise that "Small gestures bring big smiles". This year we have been able to grow the campaign a little and donate 'Hungry Caterpillar' boxes to more than 25 schools and nurseries up and down the land.
Next year we would like to at least double that and are already taking requests from schools to be added to our wonderfully growing list.
Here are some pictures and kind comments from some of the recipients this year: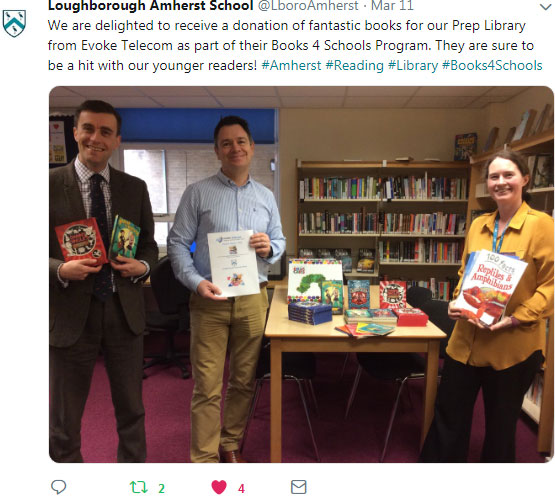 "Very many thanks for your visit and kind donation of books for Fairfield Library. The range of books are excellent and will be greatly enjoyed by our pupils. As you may have noticed we have all been immersing ourselves in the love of books and reading today as celebration of World Book Day, so the timing of the addition of some lovely new books was perfect."

~ Ms. Buchanan ~ Librarian Fairfield School

"…we are so grateful for the donation of books, we will look forward to receiving them. The children benefitted so much from these last year. Thank you so much for your generosity, particularly since school budgets are being cut to the bone".

~ Sally Eaton ~ Executive Head for Langley Hall Primary Academy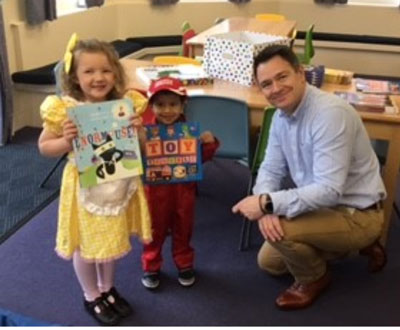 And here is a clip from the school newsletter at St Peter & St Paul CE Primary Academy in Syston ~
We simply cannot wait for next year. If you would like to add your school, or perhaps your children's, friends, or even other relatives schools to next year's list then why not drop us a line at [email protected] or give us a call on 01509 278278.