Tony Eynon is a very busy man. That is because he is Managing Director of not just one, but two vibrant businesses down in sunny Cornwall.
Following nearly 10 years' experience in the education services industry, Tony decided it was time to do something a bit different and upped sticks, relocating to St Austell on Cornwall's golden south coast.
Famed for its beautiful sandy beaches, this has enabled Tony to follow his great passion in life, the sea. When we say 'the sea' we really mean on in and under the sea! What is more, it enabled him a new and wonderful work / life balance, running his 'Extreme Sports Distribution' and 'Spearfishing UK' companies.
Extreme Sports Distribution are the exclusive UK suppliers of the Gath brand of global market-leading extreme sports and emergency services helmets. Tony's helmets can be used for Kayaking, Kite Surfing, Wake Boarding, White Water, Water Rescue and much much more.
Gath are the helmets of choice both for top athletes and for professional personnel including military, navy, coastguard, sea rescue, jet rescue, water fireman, water police and many more. Gath sets the standard! As do the team of experts on hand to help clients at Extreme Sports.
"We are very proud of our in-house sports enthusiasts, who are always available to share their knowledge and experience with our customers"
When he is not extoling the virtues of Gath Helmets, Tony can be found following his other love – spearfishing. Tony also owns and runs 'Spearfishing UK' from which his team sell everything you could ever need to follow this sport. They also offer spearfishing courses and spearfishing holidays, not only in the UK but also around world.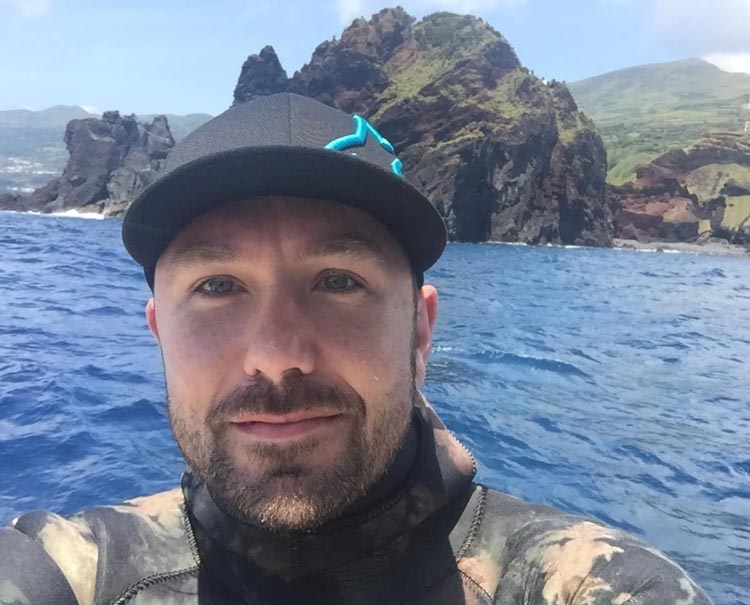 Tony Eynon loves being on and in and under the sea.
But where does telephony come in? Well, Tony soon realised that if you are going to run two businesses day to day, you will need good communications if you are to be effective. So, needless to say, he came to Evoke Telecom for a solution. We were able to provide our Horizon Cloud telephony solution which has enabled him to manage both companies, in or out of the office, with equal efficiency and customer satisfaction. Tony's team use the Polycom VVX411 handsets and the Horizon smartphone applications, to provide 'always available' internal and external communication.
"We were struggling to find the answer to how we could bring all of our communications together. David and the team at Evoke have been amazing. They have put together a great solution which is making life so much easier for us and our customers"

Tony Eynon, MD.
You can find out more about Tony's companies at http://www.extreme-sports.co.uk/ & https://www.spearfishing.co.uk/