09.00 on the first day back after Christmas was pretty relaxed for most of us. But not all of us, and certainly not so for the team at David Granger Architectural Design in Packington. This was because Wednesday 2nd January was the date that had been chosen for their move to wonderful new offices in at the specially refurbished 'Old Cottage Hospital' at Ashby de la Zouch.
Office moves are by no means easy as we all know, and this move was no exception. Planning had begun nearly 2 years ago soon after the Managing Director, David Granger, flagged the somewhat rundown and unloved 'Old Cottage Hospital' premises as a potential new home for his fast-growing team.
Soon afterwards it was all systems go as Michael Perry – Design Director and Lesley Moore – Finance Director planned an 18-month program that would ultimately see them saying "au revoir" to Packington and "bonjour" to Ashby de la Zouch. The end result is an office building that is a celebration of its history and truly fitting for the design flair and project management skills of the David Granger team.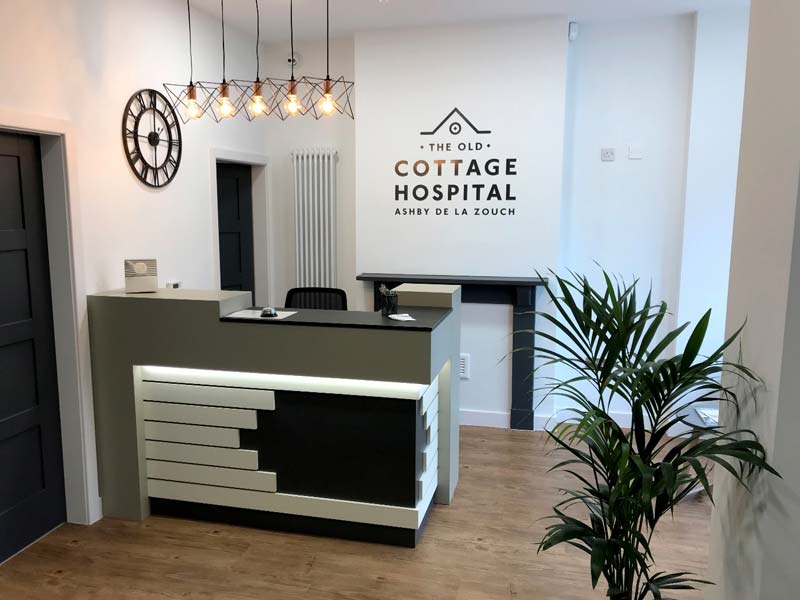 When you first enter the beautifully restored building you arrive at reception, which is a fabulous mix of old and new. The team have done a wonderful job of blending the era of the hospital with the image of a modern-day design consultancy, in perfect harmony.
Should you explore further into the building you will find that downstairs presents a series of offices, meeting rooms, work zones, print offices and a wonderful break-out area for that all-important quiet cuppa, bite to eat or just 'chill-out'.
Upstairs you will find 11 high quality serviced offices which the team plan to let out to local businesses. Should you be one of the lucky businesses that managed to secure one of these magical spaces you will also find that each office comes with high speed internet access and a cleverly integrated telephone system with full receptionist support. But you better move fast as the very first businesses are moving in in just two weeks' time.
And what was Evoke's role in all of this we hear you ask? Well at 09.00 on Wednesday 2nd of January it was our engineering team that were moving the Avaya telephone system out of the old offices in Packington and into the new Comms Room at 'The Old Cottage Hospital'. Whilst moving the system we also upgraded it to the latest Avaya release 11.0 software and added brand new J139 telephones. This move complemented the new private internet circuit that we had installed and enables the telephone system to be connected to the outside world via new SIP telephone lines for VoIP (Voice over Internet Protocol) calling. Very fitting that this wonderful old building should be fully restored yet at the same time brought up to date with the latest technology.
Be you a member of the David Granger team, or one of the lucky few local businesses that manage to snap up a serviced office here, you could not hope for a better or more beautiful place to work.
"David from Evoke Telecom was a breath of fresh air. It's nice to have a point of contact who deals with everything for you and nothing is ever too much trouble for David and the team. They've made the move and our future telecom requirements so much easier."

Lesley Moore – Finance Director

"We're delighted with the new offices. They've turned out fantastic and make a huge difference to our working day. All of our staff now have so much more space and storage and our new staff kitchen means they also enjoy some downtime away from their desk. We've given the building as new lease of life and are very proud to be based here."

Michael Perry – Design Director
A massive well done goes out to Michael and Lesley. What turned into a labour of love has delivered a stand out landmark in Ashby de la Zouch. Bravo!
If you would like to know more about this exciting project or perhaps can see yourself working at this glorious location, then you can contact Michael Perry at [email protected] – or call him on his Avaya system on 01530 560939
If you would like to know how we might support your office move or perhaps turn your telephone system into a system that can be shared by multiple tenants, then please do not hesitate to contact our smiley helpful team at [email protected] or smile whilst you dial 01509 278278 – or if you want to save a penny or two you can call our freephone number on 0800 840 3688.