Last month Ericsson-LG's exclusive UK distributor 'Pragma' took to the highways and byways, travelling literally the length and breadth of the land. They visited Edinburgh, Leeds, Cheltenham and London, delivering their 'Ideas Lab' workshops.
The objective of this new style of 'roadshow' was to share recent product updates and promote their Idea's Lab Workshop initiative.
Great news for us in that it gave us the inside knowledge as to what is new, which we have then decided to distil down (to the more 'interesting bits') and share with you.
First of all, Ericsson-LG are now enabling a selection of Yealink handsets to be connected to both their on premise eMG80 and UCP systems, as well as their cloud platform. To be fair, we already use some of these handsets elsewhere and I must say we really do like some of them – in particular the fabulous CP960 Conference Phone.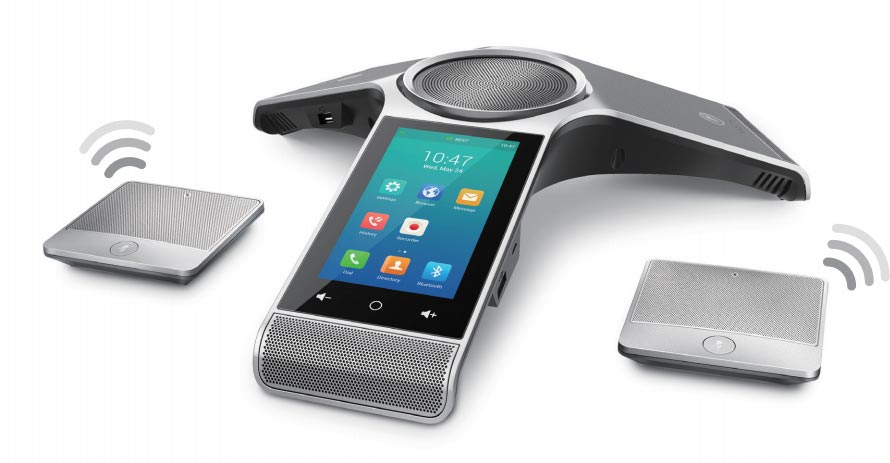 The fabulous Yealink CP960 Conference Phone
Here is the update communication as provided to us about the Yealink handsets:
Yealink Phones
With a focus on innovation and creation, Yealink is a leading provider of UC devices and endpoints. With a number 1 market share of the SIP phone market we are excited to offer 3 devices that can be sold across our On-Premise platforms;
W53P Wireless DECT Phone:
The W53P represents a reliable, cost-effective options for customers looking for a mid-level DECT IP phone. W53P also offers premium, stable HD audio quality for efficient and clear communication. The W53P also offers ergonomic design with a stylish and professional appearance (Call Page not supported)
CP960 Conference Phone:
With outstanding sound quality, the CP960 is an Enterprise-grade conference phone for mid-sized and large-sized meeting rooms. The CP960 brings together wide-range and dead-zone-free voice pickup with Yealink's Noise Proof technology making it the perfect tool for day-to-day business conference calls. CP960 also supports a fully interactive touch-screen, WiFi and Bluetooth for maximum flexibility around deployment and usability.
CP920 Conference Phone:
Delivering 'best-in-class' HD audio, the CP920 is ideally suited to small and mid-sized meeting rooms. Like its bigger brother, the CP920 supports a touch-screen and support for Bluetooth and WiFi.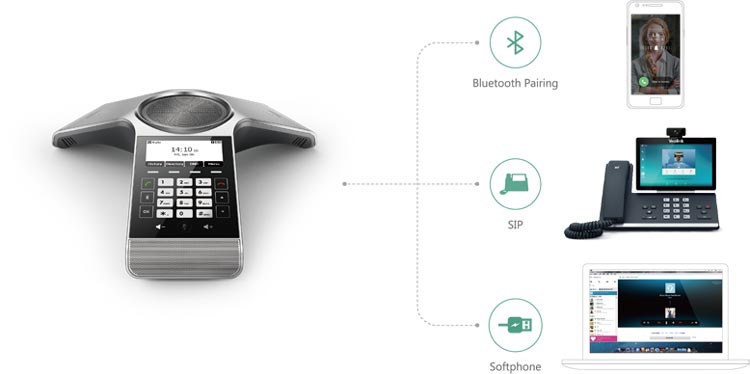 Above: CP920
The team has also delivered another software update for its eMG80 and UCP platforms, catchilly badged Unified 3.5 software release.
This new release brings:-
Enhancements to how IP DECT is delivered – supporting the deployment of the wonderful new i62 devices
RESTful API ~ making super use of HTTP protocols and as such enabling more efficient and cost effective use of bandwidth for internet traffic.
System paging and alarm enhancements ~ enhancing our safeguarding offers
Updated UCS application – in particular support of more than 300 CRM platforms
And some other less 'headline worthy' minor system feature updates
These upgrades are fabulous in that they improve IP DECT capability, enhance API capability and increase group communication and safety functionality of existing systems.
So, if your Ericsson-LG Software Support & Assurance is up to date, the team will be contacting you in the not too distant future to discuss your upgrades.
If you would like to know more about Ericsson-LG iPECS telephone systems, the new Yealink handsets, the fabulous new opportunities using IP DECT and the Ascom i62 ~ or perhaps wish to check your SSA is up to date, then why not contact our guys n gals on 01509 278278 or let you fingers do the walking all the way to [email protected]