ICT Channel Superstars Evoke Telecom win prestigious award at the 2019 Comms National Awards
There is elation in the Evoke Telecom offices today. This is because the team are celebrating winning the award for the Best Enterprise Vertical Market Solution at the 2019 CNA Comms National Awards.
And what an evening the awards night was! In true CNA style, this unforgettable eighties themed event was held at The Hilton on Park Lane, London. The host for the evening was the incredibly witty and entertaining BBC newsreader, Huw Edwards.
The evenings proceedings were opened by singer Tony Hadley. The former Spandau Ballet front man delighted the audience with some of his timeless classics. A truly 'Gold' evening all round!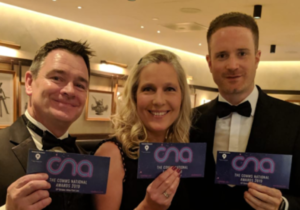 Evoke director's David and Susie Wardell were supported by Ashley Gavin from Avaya. Together they joined over 600 representatives and industry leaders who also attended from across the ICT channel.
Held in London each year, the CNA Awards are 'the big one' in the Telecoms and ICT industry.  Now in their 18th year, they have become the Information and Communication Technologies industries most revered event. The purpose of these annual awards is to recognise and reward excellence, innovation and outstanding achievement in the UK.
Evoke Telecom were recognised by an esteemed panel of 14 judges for providing the UK's first ever Avaya Smart Campus solution. This solution has transformed security and safety for staff and over 2000 pupils at the Loughborough Schools Foundation.
This year the awards saw a record numbers of entries, from literally thousands of hopeful businesses. Evoke were delighted to be awarded finalist status and then go on to win their category award.
Evokes Managing Director David Wardell commented
"Evoke are honoured to receive this high level of recognition for providing a 'UK first' solution. What is more pleasing is that it helps to address one of the most important and relevant topics of current times, 'School Safety'. "
If you would like to learn more about the solution that we provided to the Loughborough Schools Foundation, then please click here.