Software-defined wide area networks, a software approach managing wide-area networks, offers ease of deployment, central manageability and reduced costs, and can improve connectivity to branch offices and the cloud.
With major shifts in the communications market towards SaaS (software as a service) and public cloud platforms, businesses are finding that traditional WAN (Wide Area Network) technology no longer provides them with a robust and reliable mechanism to support application performance and connection security.
Common challenges with traditional WAN technologies that support new cloud/SaaS applications include;
Slow/poor user experience as a result of data passing back and forth through the data centre multiple times.
Increased WAN costs due to increased demand for bandwidth, guest WIFI access etc.
Diversely located workforce/branch locations increasing complexity and size of network.
To manage the demands of a modern multi-site business, you need a different architecture that enables local internet breakouts at every location for direct access to cloud services.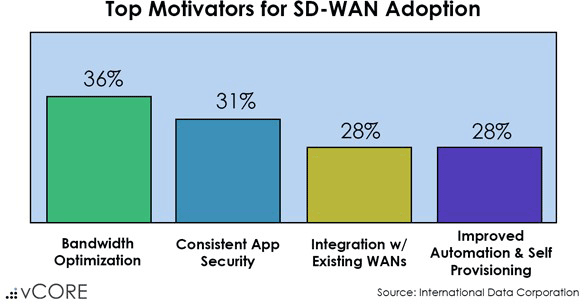 SD-WAN (Software-defined WAN) is a new approach to network connectivity that lowers operational costs and improves resource usage for multisite deployments.
Network administrators can use bandwidth more efficiently and dynamically ensuring the highest level of performance for WAN network reliability, agility and critical applications performance without sacrificing security or data privacy.
SD-WAN traffic will be 29 percent of business IP WAN traffic by 2022
In summary, the key advantages of SD-WAN include:
Improved business application performance and increased network agility.
Optimising the user experience and efficiency for SaaS and public cloud applications.
Reduced costs with transport independence across MPLS, 3G/4G/5G LTE, etc.
Simplified operations with automation and cloud-based management.
Evoke Telecom's 'Call to Action'
If you would like to learn more about how Evoke can help you further understand the benefits of SD-WAN and improving your business WAN/network, please get in touch with our lovely sales team by dialling  01509 278278 or if you prefer, you can email the team at [email protected]