By Susie Wardell, Director
I was absolutely delighted to be invited to support the local, multi award-winning businesswoman and post-natal fitness legend Dr. Joanna Helcke (https://www.joannahelcke.com/) with her 10-year celebrations of Zest4Life UK.
Held on Saturday 23rd March, at the beautiful Vegan 'Prana Cafe' in Leicester, proceeds from the night went to Sands – Stillbirth and neonatal death charity, an incredibly worthy cause I think we would all agree.
It was a truly special evening and an accolade to the dedication and commitment Joanna has put into building and driving a business that has supported and enhanced the lives of so many.
Joanna is a regular contributor to the national media, providing expert pregnancy and postnatal fitness comment for magazines such as Gurgle, Mother and Baby, and BBC news online. She is also a writer for WatchFit, FitPro and BodyPower and a public speaker at events such as The Baby Show. Despite her busy schedule and being Mum to 3 fabulous boys, she still finds time to provide free classes, clothes and any support she can for The Bridge Homeless charity in Loughborough as well as many other good causes.
As you can understand, I was therefore so incredibly proud to be able support Joanna as a fellow local business and friend. 10 years in already, we all feel sure this is only the start and we very much look forward to celebrating her achievements over the next 10 years and beyond.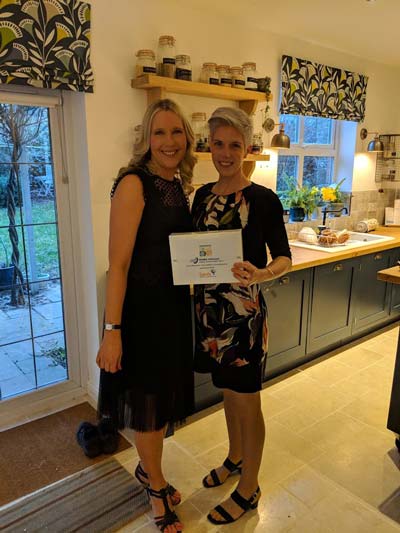 Dr Joanna Helcke receiving the raffle prize.
As if donating an Apple iPad to the charity raffle is not enough, I was also persuaded to don a variety of outfits and 'strut my stuff' along the catwalk in support of a fashion show on the night.  I'm not going to lie when I confess that I was very nervous, as I've never done anything like this before! But sometimes you just have to give things a go, so I steeled myself for the challenge and off I went.
And, what fantastic fun it was! I changed into 5 different outfits across the evening and walked the fashion catwalk. In truth, I really did enjoy myself, it was wonderful and all for such a worthy cause. Here are a couple of pictures from the evening.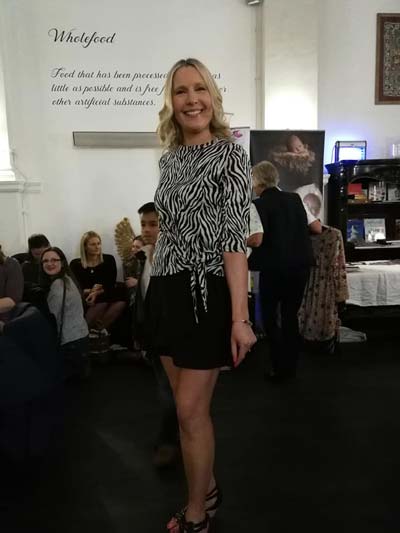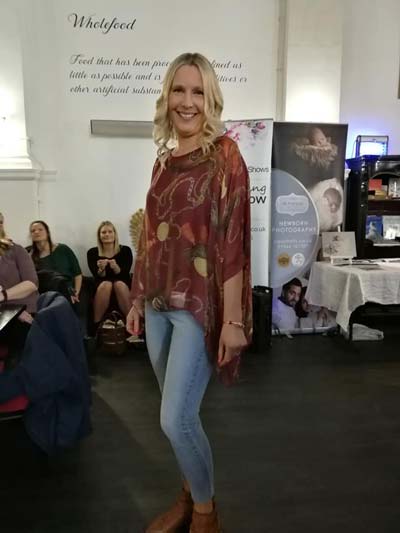 Towards the end of the evening we moved on to the drawing of the raffle. I wasn't fortunate enough to hold any lucky tickets myself but was absolutely delighted when the lovely Rebecca Kay's ticket came out as the winner for the iPad that we donated.
Needles to say, Rebecca was delighted, and after picking up her prize she sent us a lovely message, and the picture below saying: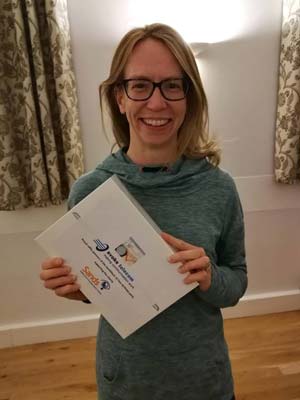 Dear Susie,
Thank you so much for this wonderful prize – honestly over the moon with it! The kids have been beside themselves all week too – need to figure out how to hide it from them 😂😂
~ Rebecca Kay

For my part, I was truly honoured and equally humbled to be invited to support such a wonderful cause. Dr Joanna Helcke is one of life's wonderful people and is devoted to helping others – an amazing woman in every way. Well done Joanna!
I can hardly wait for 2029 😉