This month we attended the catchingly titled 'Margin in Mobile' event at the Marriott Hotel in Northampton to find out exactly what is current and what is new in the world of mobile communications and OTA (Over the Air) technology.
Even before attending, we already knew exactly what we wanted to achieve from the event – namely to get an update on 3 areas that are of particular interest to us: –
5G – what might that mean for SME and Mid- Market businesses in the UK?
Using mobile network SIMs for fixed telephony and business broadband?
IoT the Internet of Things
The event was rich with key market service providers, keen to share their latest news, services and products with us. Attendees included: – Zest4, Absorb, Pangea, Comms365, Techdata, Aurora, Nimans and Gamma to name but a few. And here is what we found out.
5G. Superfast over the air Broadband is coming down the track, fast.
Have you noticed recently how our TV screens are awash with mobile phone adverts for the all new Samsung Galaxy 10+ and the Huawei Pro 30 – promoting super-duper this and superfast that? Like me no doubt, when you see this you know that something is about to happen. Could this be the proverbial 'calm before the storm'? And you would of course be right, as the market carefully begins to position itself for the launch of new rocket fast 5G mobile networks.
Yep, 5G is coming to the UK mid to late 2019 with initial roll out cities announced, including London, Cardiff, Belfast, Birmingham and Manchester.
So, what is all the 5G hype about and just how fast will 5G be?
Well, the chaps with "cone shaped heads and long white coats" are predicting that at download speeds of up to 10Gbps it could be 100 x faster than current 4G networks. That will be fast enough for HD streaming, … so all very exciting as you can imagine.
There are even some suggestions of 100Gbps and 1Tbps in a test lab environment.
But what might this mean for everyday UK small and medium businesses?
Outside of super technology advantages, (for example, live video streaming and huge transfers of data) the most obvious area that superfast OTA data might help small businesses is as a replacement for wired broadband!
Believe it or not, there are still many areas that simply do not have access to anything other than snail paced ADSL broadband! And what is more, it is not only in rural areas but also in some of our larger cities. Have you tried to get broadband access in Leicester LE1 city centre for example?
For some businesses the only way they can access any broadband services that are anywhere near their speeds requirements are those that are commercially too expensive to even consider.
Finally, with VoIP becoming the only telephony option from 2025, it could be that many businesses simply will not have access to the services that they will need to make and receive business phone calls! CRAZY!
As a result we are working with our partners to trial mobile SIM cards in routers as:-
An alternative to fixed broadband.
As a Business Continuity Option, should the fixed networks fail.
As a carrier for VoIP and SIP services
And finally, in combinations with mixed network providers (as a bonded SIM) and also in combination with fibre broadband services to boost options, speeds and bandwidth.
You would not be blamed for thinking this is actually quite an easy thing to achieve – you know 'simple plug and play'. Well believe it or not, there are some pretty technical challenges with sending IP telephone line services to more than one connection option! 👍
However, undeterred we have found a super 'box' from the team at Comms365, called their SD-One solution and are investigating whether this might be worthy of taking forward to a network trial. This clever little box may enable us to bond several network SIMs (wow can you imagine bonding several different 5G SIMs!) and also bond to a fibre circuit like FTTC/ FTTP or a private circuit. Mind boggling isn't it!

As we evaluate and trial – do not fear – we will keep you updated. Fingers crossed that it covers off its technical and commercial bases and we can progress to network trial.
We also looked at what is new in IoT – the Internet of Things:
Did you know that by 2024 it is predicted that there will be 150 million IoT connections in the UK? Like wow! But, where will these SIMs be? The potential list is mind boggling:
Household devices like meters, washers, fridge/freezers, heating,
Cars & vans, taxi cabs, heavy goods vehicles, autonomous vehicles, hire vehicles
Medical equipment
Environmental equipment
General tracking for stolen cars, capital equipment, sensitive goods
Environmental services, alarms, CCTV's, remote wifi and connectivity
…. And on and on – the potential uses are absolutely endless.
Alongside this is the development of the 5G network (perfectly suited to new IoT services) which will enable vast swathes of mobile data to be regularly delivered at superfast speeds – the potential is staggering.
For example, Pangea are doing some exciting stuff with SIM based energy management systems.
They have brought to market their 'Buddy' solution ~ consisting of IoT sensors, SIM-enabled connectivity, and a real-time dashboard. Buddy provides a smart building solution that turns sensor data into actionable insights. For example it helps businesses keep track of: –
Electricity, gas, and water consumption per building, floor, desk, or device
Temperature and relative humidity
Power generated by renewable energy equipment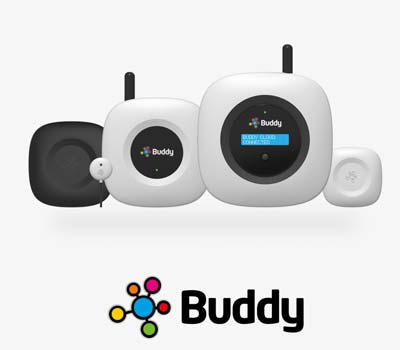 And that is just one example of where things are heading, and the part OTA might play in this. As we keep a watching brief, we will absolutely keep you guys updated over the coming months.
So, stay tuned to our newsletter for more news!!